Mothership / Live-a-Board NT Fishing Tours
First class operators Peter and Terri Barnes aim to provide an informative Northern Territory fishing experience for enthusiasts of all levels. They provide their clients with a professionally operated, high quality and personal adventure in the spectacular Top End wilderness.
The Territory is an unrivalled fishing destination with unbelievable networks of waterways offering world class fishing opportunities. The mighty Barramundi is the most famous and keenly sought after fish in our waterways. Being aggressive lure takers and having a reputation for their aerial acrobatics, anglers never tire of catching this remarkable fish. Barramundi are abundant throughout the Northern Territory's waterways and are caught around fallen trees, creek mouths, run offs, gutters, sand flats and rock bars. Barramundi can be caught year round, traditionally being most active during the warmer periods.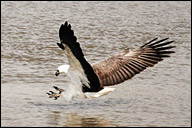 In addition to the vast marine life and natural beauty, the Territory's waterways are home to a magnificent array of animal and bird life including buffalo, crocodile, wallabies, kingfishers, jabirus, brolgas, white breasted sea eagles, kites and many other varieties.
They cater for all level of fishing enthusiasts ranging from the absolute beginner through to the seasoned sport fisherman. Having fished, visited and now residing in the Territory for the last 15 years, Peter and Terri have a vast knowledge and understanding, supported with a high level of experience of the Territory's waterways. They look forward to providing you with personal tuition and have you confidently catching fish in no time at all.
Accommodation Based NT Fishing Tours
Expert fishing guide Geoff Corry started guiding on the South Alligator River in the early 80's.
In the late 80's Geoff started a guiding position at Barra Base (BarraBase). This was a very popular fishing destination on the Tiwi Islands. At first Geoff remembers struggling with the huge tides, something he had not had to deal with growing up fishing the fresh water of Victoria. One day he says, "It all just clicked." He learnt to read the water and where and when to be according to the tides.
 Geoff worked his way up to Manager at Barra Base (BarraBase) and it was during this time that he built Jessie Camp, (also on the Tiwi Islands), and managed both Bases. It was here that Geoff made a name for himself in the fishing industry.
Geoff has been part of many National fishing shows and many an article was written after a fishing trip with him.
He not only imparted his knowledge to his clients but readily took under his wing young blokes wanting the same opportunity as himself years before. Geoff gave many of the guides working in the NT today their first guiding opportunity. Geoff was manager for five years when Barra Base (BarraBase) closed at the end of 1998.

Geoff now works out of Darwin. He combines local lodges, motherships and heli fishing to cover as much of the Top End coastline as he can and provide clients with the trip of a lifetime. Geoff's priority is his clients and making sure they go away with great stories of success and knowledge they can use in their own fishing. He says helping others realise their dream gives him the satisfaction that the challenge of working out the NT waters in his earlier days did.
We are lucky to be teamed up with Geoff and when you fish with him you will soon realise that this bloke really knows his stuff!
Victorian High Country Freshwater Tours
Cameron McGregor
B. Environmental Management and Ecology (La Trobe University), PFIGA Fishing Guide
Cameron was practically raised on the rivers' banks, and it has been his playground for most of his life. His passion for fishing has transferred into a love of all things to do with rivers and their inhabitants. He has fished for Australian natives all his life. Cameron learnt to fly fish at the age of 12, which fuelled his early interest in entomology and fly tying. During his time at university he studied macroinvertebrates and Australian native fish species such as galaxids. His research interests led him to various positions for both New South Wales and Victorian fisheries departments. Here he researched native fish species such as Murray cod, trout cod and golden perch, invasive species such as carp, and sport fish such as brown and rainbow trout. His research and personal interests have allowed Cameron to accumulate an extensive knowledge of Australia's freshwater ecosystems, particularly in the Murray-Darling Basin. Some of Cameron's achievements to date include the discovery of a remnant population of olive perchlets in the Lachlan River and a new species of Coloburiscoides mayfly in the Murrumbidgee River. Cameron, together with Katie, also researched a remnant population of southern pygmy perch in the Ovens River catchment, of which have now not been seen for several years. Cameron is a highly competent angler and instructor with much experience fishing around Australia and abroad.

Katie Doyle

B.Science (Hons, First Class)(Sydney University), Post.Grad.Dip River Restoration and Water Policy Management (Charles Sturt University), PhD Freshwater Ecology (University of Queensland)
Katie has been enthusiastic about nature all her life. This passion led her to study biological science at university, and then to specialise in her post graduate career in freshwater ecology and the management of marine and freshwater resources. Katie has recently completed her PhD on the management of invasive common carp (Cyprinus carpio) in the Murray-Darling Basin (supported by the University of Queensland and the Invasive Animals Co-operative Research Centre (IACRC)). Part of this research involved detailed studies on the diet and habitat preferences of native percichthyid fishes including Murray cod, golden perch and Australian bass. Her aquatic-based research has taken her to places such as Thailand, the South Pacific and throughout Australia. Throughout her lifetime, including her travels, experiences and university career, Katie has gained an intimate knowledge of fauna in both aquatic and terrestrial ecosystems, and has a deep appreciation of Australia's native fauna species. She aims to communicate current scientific research to the general public in an enjoyable way in the hope to maintain and protect freshwater resources and the life they support.